Just the other day, I was talking to a friend of mine, Rachel.
Ask anyone and they'll tell you Rachel has the perfect life.  In her mid-forties, she is as healthy and radiant as she's ever been. She has a husband who adores her and three kids who multiply that love.
Yet lately she admitted, she's been feeling restless.
Like something was missing and she had this nagging urge to sneak off and find it.
As I listened to her talk, I recalled a *story an old mentor of mine had told me in a time when I felt restless in my own life.
How to Find "Paradise" When Feeling Restless
The story went something like this…
Once, long ago, there was a man who was displeased with his life. Yes, he had a wife who loved him and two children who adored him. He liked his work and had friends he enjoyed, but still, something nagged at him. Daily, he found himself dreaming of an unseen place he heard about called Paradise.
One morning over a bowl of oatmeal, he stopped dreaming of Paradise and decided to go find it. Without a word to his family, he walked out the front gate with the broken latch, away from the place he had called home and never looked back. He was a man bound for Paradise.
For three days he traveled. And each night, before falling asleep, the man removed his shoes and deliberately pointed them in the direction he had been traveling, toward Paradise. Each morning he carefully stepped into his shoes and continued his quest.
Then on the third night, the man accidentally kicked his unofficial compass 180 degrees. When the first rays of morning fell, the man leaped to his feet, carefully stepped into his shoes and began traveling in the direction they told him to go—toward "Paradise."
Exactly three days later, he arrived. "Paradise!" he cried from atop the hill. Though, as he stared at the village below, he thought it looked vaguely familiar… but wrote it off as coincidence.  He excitedly descended the hill and walked through the village of Paradise where strangers knew him by name. Of course, they did! Why wouldn't they? This was Paradise!
The man continued until he came to the end of the road where there was a gate with a broken latch. He walked through, and as he did, he heard a melodious voice calling him in for dinner and could smell the aroma of his favorite meal. As he opened the front door the man was greeted by two children who yelped "Daddy!" as they wrapped themselves around him and a woman who kissed him like she meant it.
Ah! Paradise he thought.
Now, every morning the man eats his bowl of oatmeal and revels in his new, wonderful life in Paradise.
I finished the story, and Rachel nodded just as I had when I heard it years ago.
I assured her that the desire for Paradise is not itself a crime.
Everyone desires Paradise.
The confusion of where to find Paradise is the problem.
*Paradise story credit: Steemit.com
Here's the Mental Shift…
Want to stop feeling restless and sleep at night?
Know that Paradise is a choice.
It is a state of mind.
It comes from within.
Paradise doesn't exist unless you create it and unless you choose it every day.
We all seek significance (aka Paradise):
That we are important, that we matter, that our life matters.  And when we feel we are failing to achieve these, we often feel anxious or restless.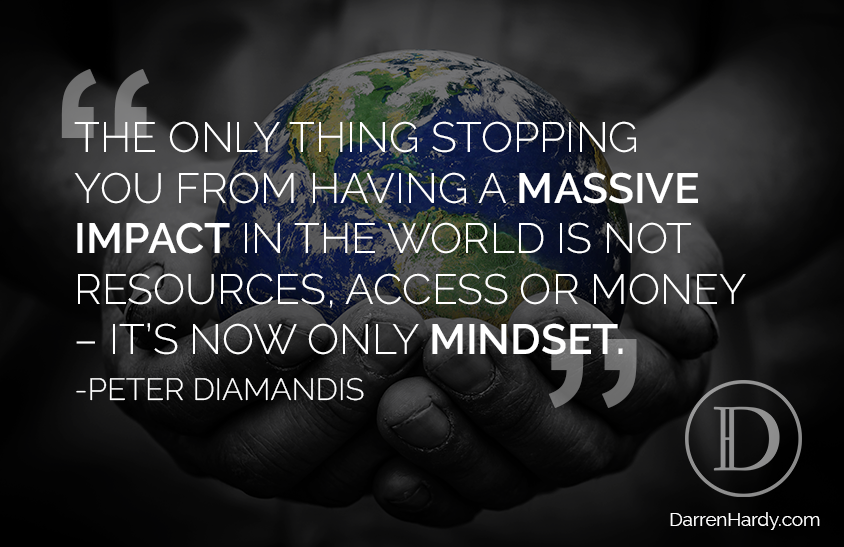 The reality is, you already are.
You are significant, you matter, your life matters.
The only thing separating yourself from the knowing is your perspective.
Stopping, looking and realizing the profound impact you are making in the worlds of everyone you meet, most particularly those you lead in your home and at the office.
3 Steps to Overcome Restlessness
For my restless feeling friends out there, I'll let you in on a secret…
There have been many times (even in the past few years) that I've felt uncomfortable, anxious, or restless.
My #1 source of anxiousness:
Staying in the Same Place!
So, after reminding myself of the state of mind of Paradise, here's what I do.
#1 – Set New, Massive Goals
Like the man in the story, kick your shoes around.
Be the exception and go in the opposite direction most go. Set a new course.  It may lead you to discover the Paradise you've been living in all along.
Psychologists agree that setting goals is great for your mental health!
Goal setting gives your brain a dopamine boost and improves your performance.
Stagnation is boring.  Want to wake your brain up and excite it?  Give it a tall task, and watch how great your restlessness melt away.
#2 – Now Jump!
Goals are meaningless without action.  So you must jump.
Yes, it will take courage (this article about 20 seconds of courage will help!)
If you're feeling anxious about jumping, that's probably a sign that greatness is ahead of you, and you need to jump all the more.
As Tim Ferriss says:
"What we fear doing most is usually what we most need to do."
#3 – Make it a Game!
Recently, I was speaking with one of the entrepreneurs I've grown to know from my High Performance Forum.  In passing, he mentioned that he was discouraged as a father, not being able to get his three daughters to obey the simplest requests, like getting ready for bed or feeding the dogs.
I suggested the next time they failed to listen, he opens the "timer" app on his phone, shows it to his kids, and says, "Let's see if you can do it in less than 3 minutes.  Go!"
He laughed and told me he was "willing to try anything," and that he'd report back.
The next day, he texted me,
DARREN!!  It worked!  I used the 3-minute timer on my phone last night to get the girls to go brush their teeth.  You should've seen them stumbling over themselves racing to the bathroom!  Hahaha!  Thanks again!
You see:
We, humans, have some uncanny ability to re-frame seemingly absurd and tedious tasks, and actually, perceive them as EXCITING when we make it a game.
That's why on the Darren Hardy team, we:
set and track annual and quarterly team goals
track our weekly "wins" and "losses"
track which team member gets the most "team wows"
It helps us all to stay on track, makes us perform at a higher level, and it's actually a whole lot of fun.
We want to achieve more, to be more, to impact more.  When we're stuck on a wheel, it's frustrating.  So if you're feeling restless at night and want to sleep better, set new goals, jump, make it a game, and remember that you already are immeasurably important to those in your life.  You already are living in Paradise.
PS – I learned this "make it a game" lesson from the centenarian I interviewed in "The Almighty Encounter."  For the full interview, click here for free access!
PPS – If you haven't signed up for FREE daily mentoring with me, join me and 350,000+ other high achievers who kickstart their day with Darren Daily.  Click here to sign up here for free.